As you walk along Andrassy Ut (Ut, meaning boulevard) one can't help but appreciate the trendy cafes and pubs that perch along the sidewalk. One might stop and gaze into the store windows of haute couture such as Versace. Oggle the craftsmanship of world class Hungarian porcelain at it's finest at Herend. Simply put, this tree-lined avenue is the Champs Elysees of Budapst. Our hotel was situated at the head of Southwestern end of the boulevard at Deak Ter (Ter, meaning square, Deak is this guy).  On a dreary overcast day, Chris and I set out to explore this stretch of pavement. We enjoyed the atmosphere of this vibrant city that bursts with neoclassical and art deco architecture. Despite the flowery adjectives I'm so freely using to describe this expansive bustling street, Chris and I were headed towards a very somber and haunting destination.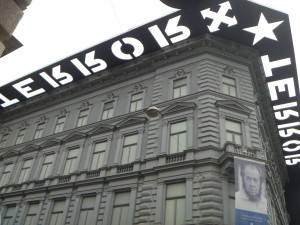 Located at 60 Andrassy Ut stands a sterile, cold and eerie gray building. It looks like it could have once been a bank or a school. But this is and was no bank or any kind but it was a place of learning. This is a museum dedicated to the history of the double occupation in Budapest. This is The House of Terror. It's aptly named too. If these walls could talk, they would probably scream. Horrid acts of abuse, imprisonment and torture were committed in this very structure and not by just one regime, but TWO!
When we think of WWII, it's hard not to immediately think of Nazis. And, like most European travel destinations, Budapest is also haunted by the ghosts of this grisly era the 20th century. During the Nazi Occupation of Budapest, this house was the headquarters for the local Nazi regime. This building is where Jewish citizens were rounded up, imprisoned, tortured and then forced to either name names, die or both.  Horrible atrocities were committed here for over a year before the Soviet Army "liberated" Hungary from the Nazi regime. While freedom from the Nazi stronghold was truly needed and appreciated, the new regime, the AVO/AVH regime, moved in only to commit the very same acts of inhumane cruelty in an effort to further their own imperial causes.
As you enter the dim and dismal building you are met with two marble obelisks representing both regimes.
Carry on down stairways, and you'll pass marble or granite statues depicting fascists and soldiers of these vile regimes. As you wait in line to purchase your ticket for entry into the museum, you can watch footage of victims recounting their horrors to an off screen interviewer. Once you're in, you'll move through rooms that project more footage of the Nazi occupation into Budapest; soldiers in their trademark march making progress up Adrassy Ut. The transfer of power from the Nazi stronghold to the Soviet regime. A table set with fine china that proudly displays the Arrow Cross emblem at 12 O' Clock on the dinner plate. Read accounts of local priests, prisoners, Jews and Gentiles all held captive, tortured and abused. Many never left the building. The last floor is the darkest and most haunting. It's the gallows. Left as is. Completely upsetting. As you make your way to the exit, notice the portraits on the wall. The south side wall depicts those who inflicted harm, torture and abuse on the captives. Many of the photographs indicate that these criminals are still alive. Across from this wall are the recorded victims who were the target of the torture and abuse. The pictures also indicate their mortality. As you leave this building it occurs to you that many of these people in those portraits, abuser and victim, still live among one another in this now elegant and romantic European capital. Can you imagine the horror of surviving, not one, but TWO violent regimes with evil, cruel and manipulative practices, only to grow along side your victimizer?
I wish I could provide more photos, but I abide by the rules and we were asked to abstain. I'll be honest, this post was a hard one to write. I like humor. I like to be light and silly and witty. But some topics have no room for lightheartedness. This was one of them.
After we left the building we stepped out into the once dreary and overcast Budapest boulevard. We welcomed the appearance of the sun and the solemn reminder of the perseverance and resilience of this gorgeous city the country as a whole.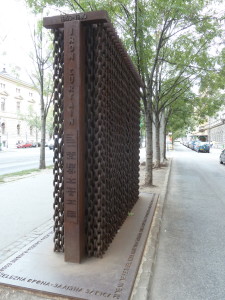 This monument is a representation of The Iron Curtain.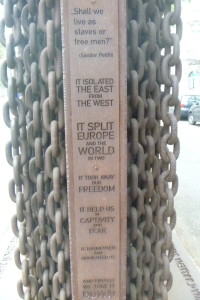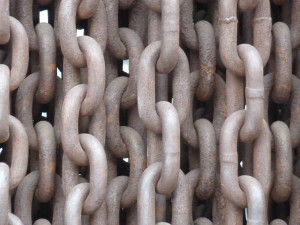 It's things like this that remind me how good I have it and how lucky I am.
And it's people like this that keep my wanderlust charged.
Happy Deviled Eggs Day!
I shall celebrate by watching Cal lose to Arizona.