When I woke up the morning of my departure I was greeted with an email alert from United informing me that my flight has been delayed 3 hours. This meant that there was no way I would make my connection in Frankfurt to Budapest. Fortunately, I remember this Louis CK bit and that fact I lead a fairly lucky and priveledged life so I shined it on, made a few calls, secured an alternate connection and embraced the beginning of a typical European Adventure. Chris was already in Budapest, working hard for the man. My folks kindly drove me to SFO and after a breezy entrance and exit through security, I was settled into the terminal, anxiously eyeing the dude on my left in the the restaurant who was inhaling a plate of refried beans. Thank God, I didn't see him on my flight.
The flight was fairly uneventful. Sadly, due to my first world problem of the flight delay and thus change in aircraft, I was booked on a United plane and not a Lufthansa craft. This meant that I didn't get my own tv monitor. However, there was a much better alternative outside my window.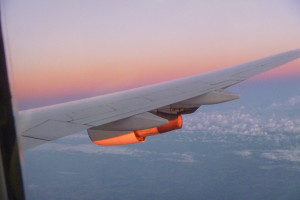 We arrived promptly on time at Frankfurt and I spent a good 3 hours at a bar in the terminal with two women who were about to begin a "Bucket List" adventure of a Mediterranean Cruise. They were both from the Bay Area as well and the three of us enjoyed swapping stories about our gastronomical adventures abroad.
Nearly 20 hours after I set off, I finally touched down in Budapest and promptly secured a taxi to the hotel that Barra secured for Chris.  This is easily the nicest hotel I've ever stayed at. Thank you, MSCI!!!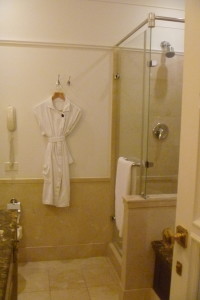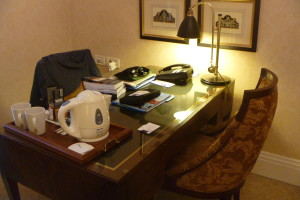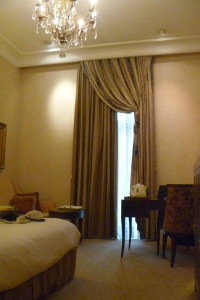 Not even 20 minutes after I arrived, my hard working husband came home took me on a stroll down Vaci Utca.
  The next morning, Chris had to get to work which meant I had the day to myself to explore this gorgeous city. We shared a delicious and expansive breakfast in our hotel (I will write a separate post about this later) and joined him in his commute to learn the logistics of the subway system and get my bearings on the city lay-out. I also got more time with my beloved.

  Budapest is divided by the Danube into Buda (eastside of the Danube) and Pest (the westside). We are camped out in Pest which is more of the modern/finanical hub of this captial city.
Thirty minutes later I was once more a Solo Traveler and strolling along the Danube towards my first stop, Budapests Market Hall. But first: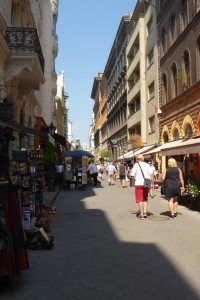 After a few pics of the picturesque structures on the hill, I made my way down the promenade of the Danube to the market. But, then became easily tempted…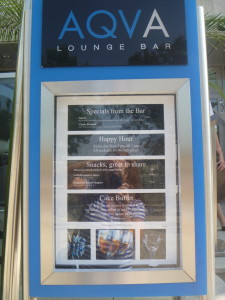 Where ever I go, I love to visit the local market. As a food lover and a dietitian in training, I'm fascinated with the link between food and culture and agricultur, health and economy. The ways people farm, sell and prepare food is intrinsic to local culture and customs and often provides a unique lens on a city, country or people.  The Market is located at the very end of Vaci Utca and from the outside resembles a huge Industrial building that is very reminscient of a 20th century train station. Inside, stall after stall is overflowing with fresh produce, newly butchered meat, smoked meats, cheeses of all cultures, and textiles and wares to satisfy and tourists souvineer needs.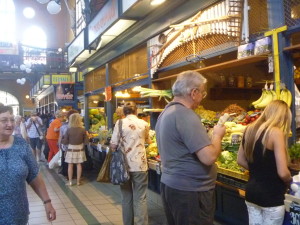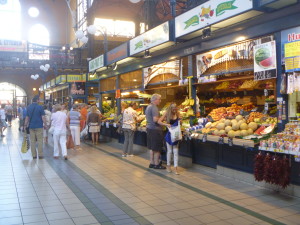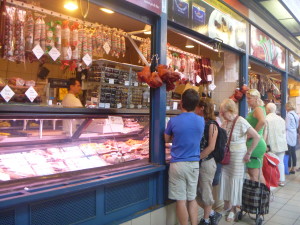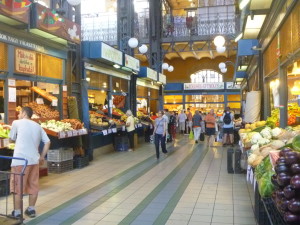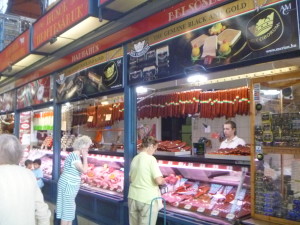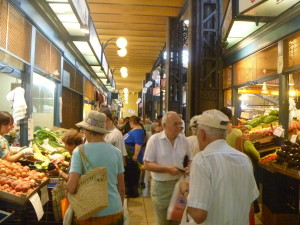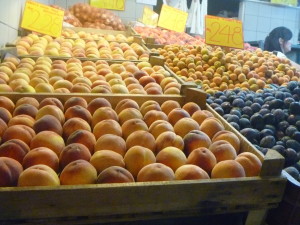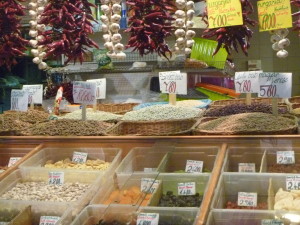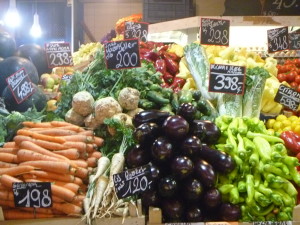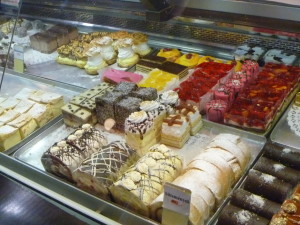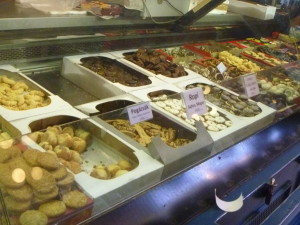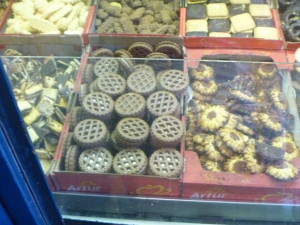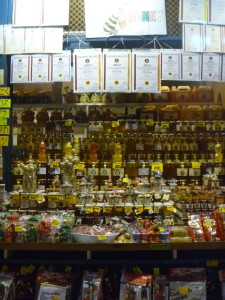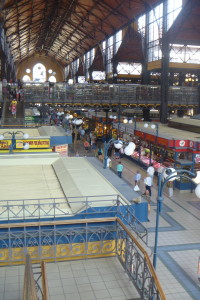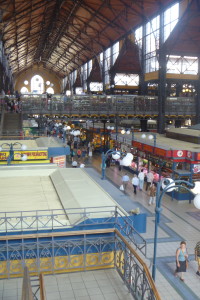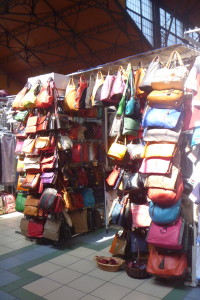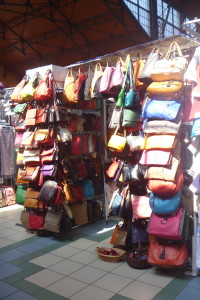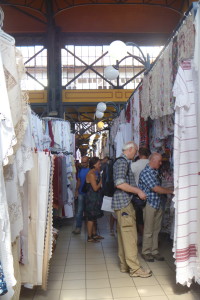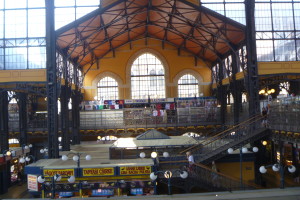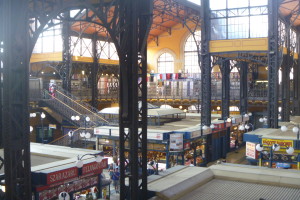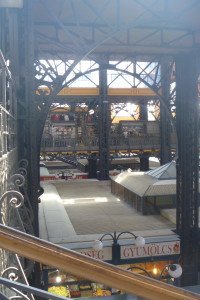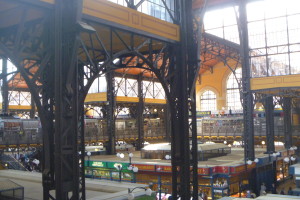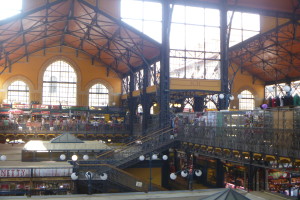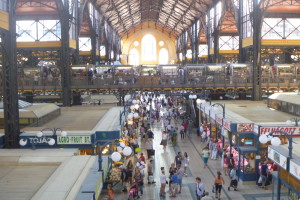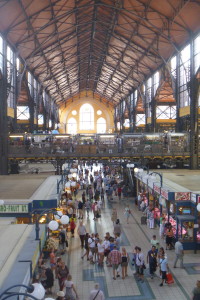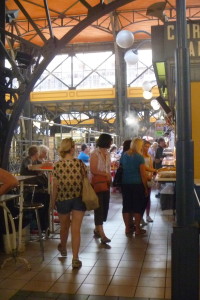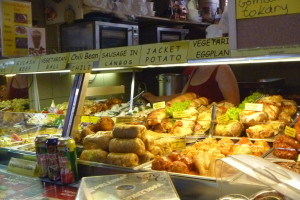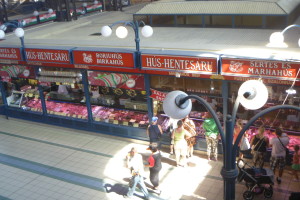 After about an hour of wandering up and down stalls of goods, food and wares, it was time to switch gears and head towards the Basilica.  Roughly a 25 minute stroll back up the Vaci Utca I entered the square which is home to St. Istvan's Basilica.   Per Rick Steves, the baslica was designed by three architects over the course of over 50 years. This explains the hodgepodge of neo-gothic, neo-classical, and neo-rennaisance influences.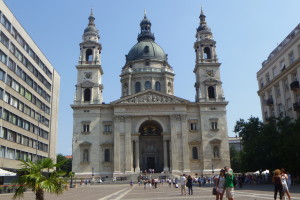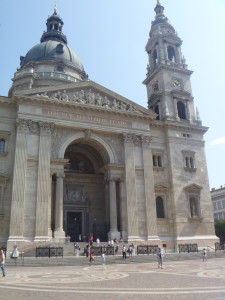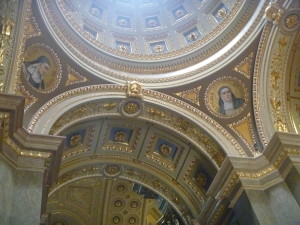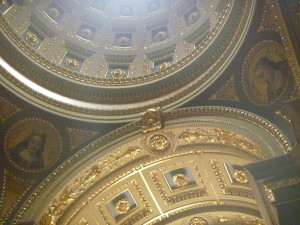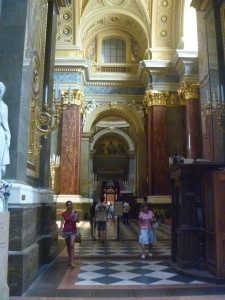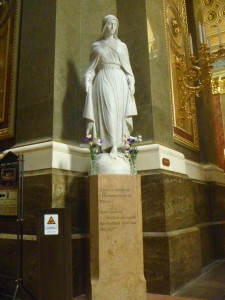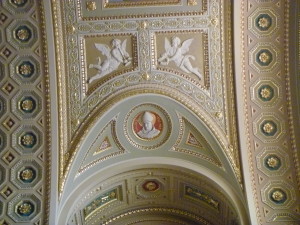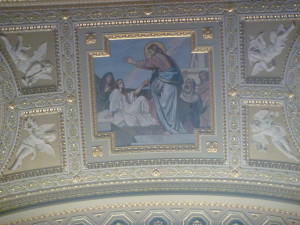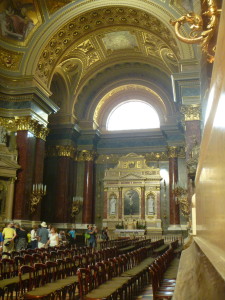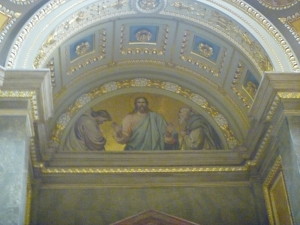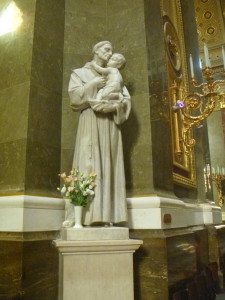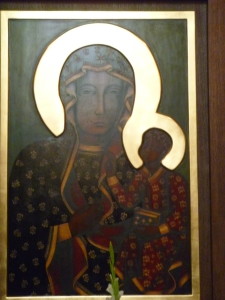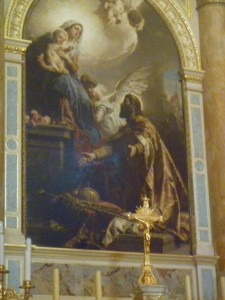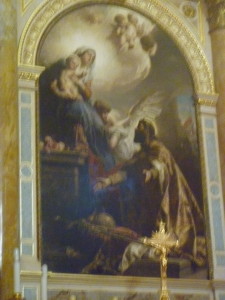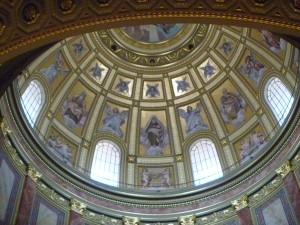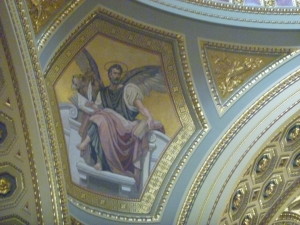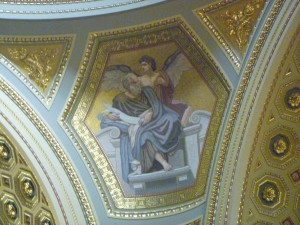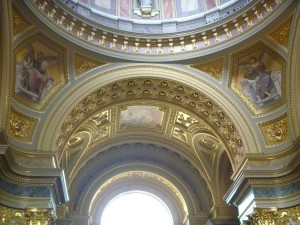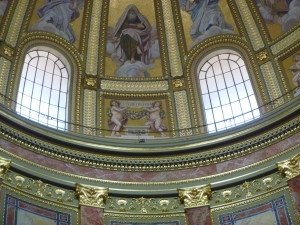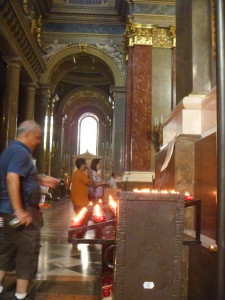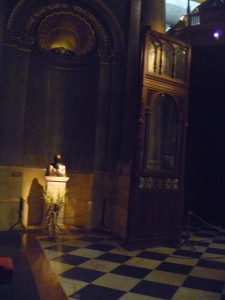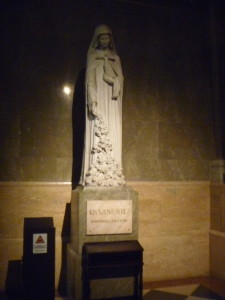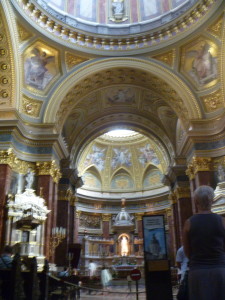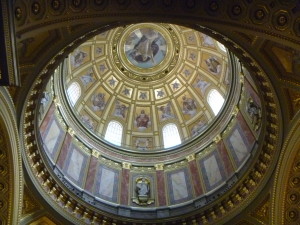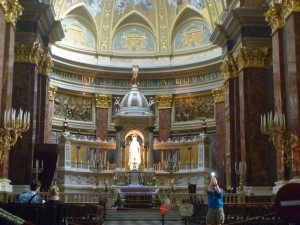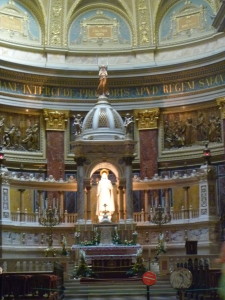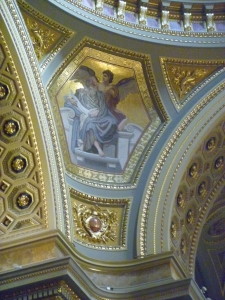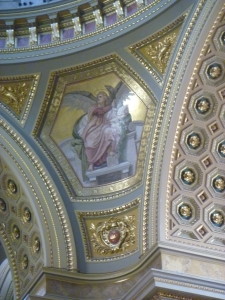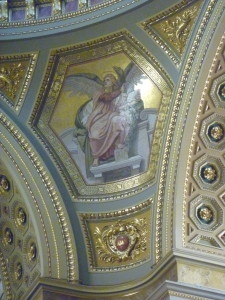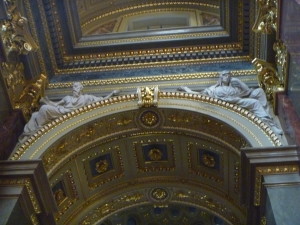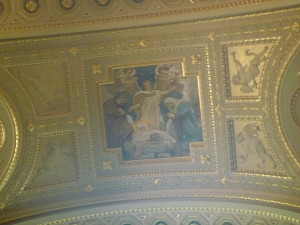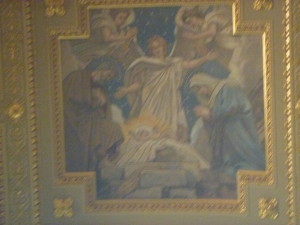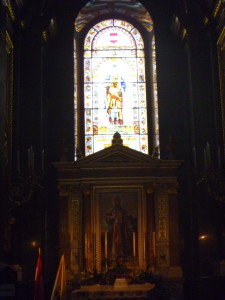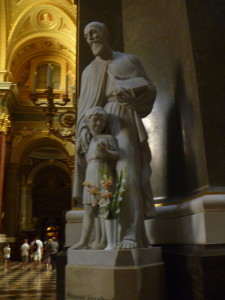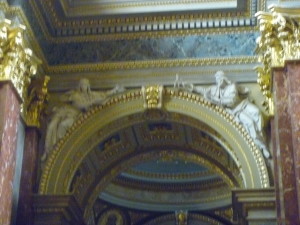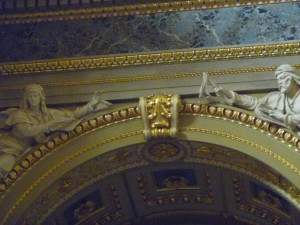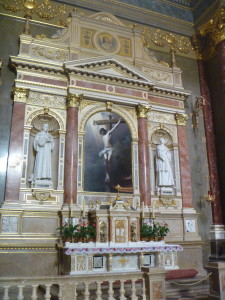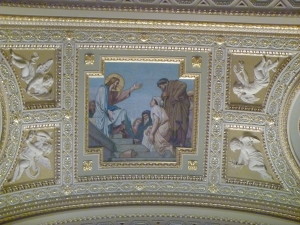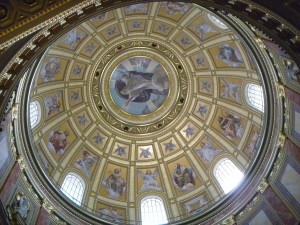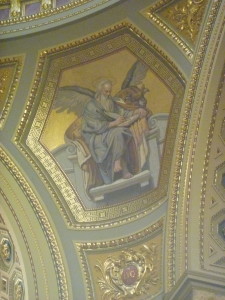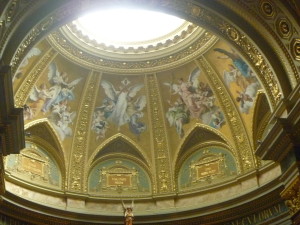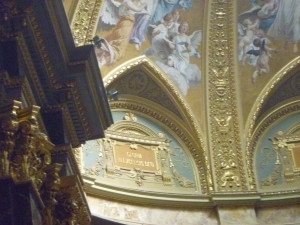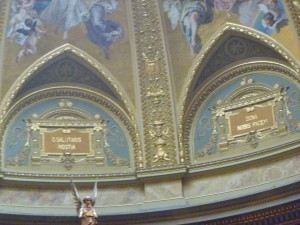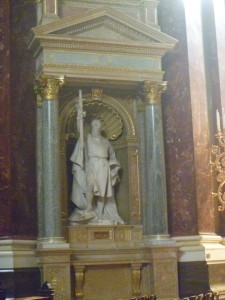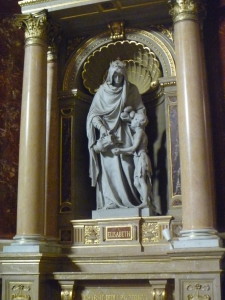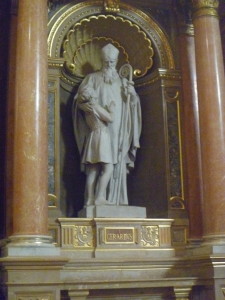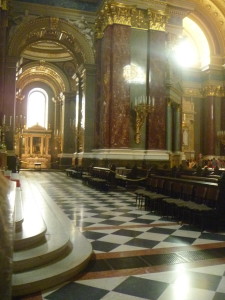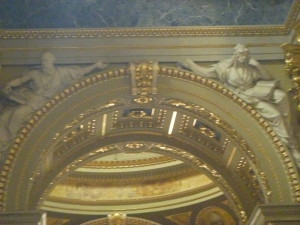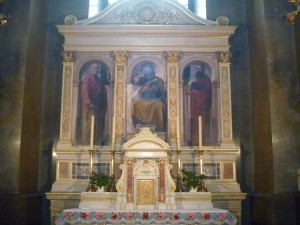 A small chapel to the left of the sanctuary is home to the patron saint's mummified hand. More impressive to me, are the gorgeous stained glass windows depicting saints of local import and reverence.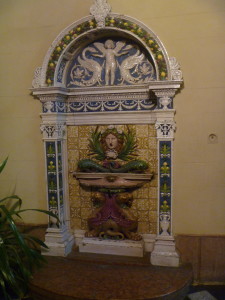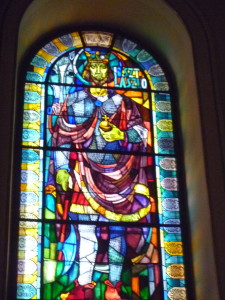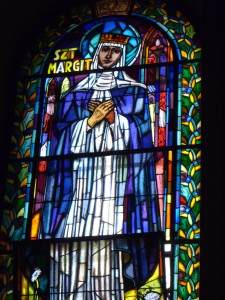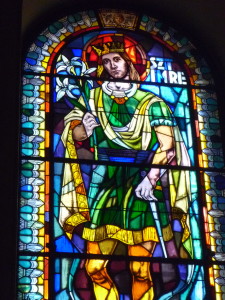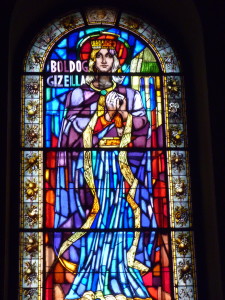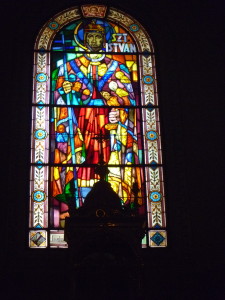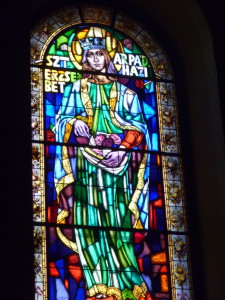 At this point, my jet lag had completely set in and it was time to head back to the hotel for a brief nap. Chris was home and after a quick respite we were off to a restaurant that was suggested by one of his colleagues. Delicious!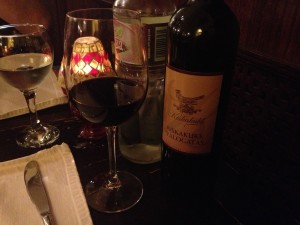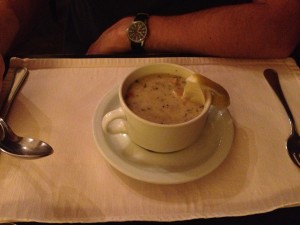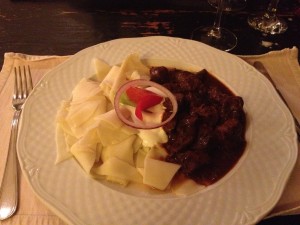 We finished our evening out with a beer at an Irish Pub reminiscent of our first date. Also called Beckett's, we enjoyed (yes, that's Chris enjoying himself) a few rounds and the warmth of an evening in Budapest.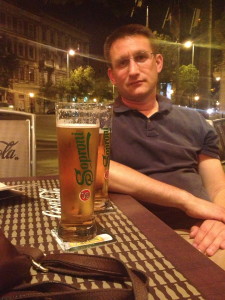 But once again, the bed and sleep beckoned and since tomorrow as Saturday, Chris was free to partake in siteseeing with yours truly!
And with that, Day 1 down and so much more to follow up on. Stay tuned.